&nbsp &nbsp &nbsp &nbsp &nbsp &nbsp &nbsp &nbsp &nbsp &nbsp
&nbsp

&nbsp &nbsp &nbsp &nbsp &nbsp &nbsp &nbsp &nbsp &nbsp This month's calendar &nbsp &nbsp &nbsp &nbsp &nbsp &nbsp &nbsp &nbsp &nbsp &nbsp &nbsp &nbsp Archives&nbsp &nbsp &nbsp &nbsp &nbsp &nbsp &nbsp &nbsp &nbsp &nbsp &nbsp &nbsp &nbsp &nbsp Our Google Calendar&nbsp &nbsp &nbsp &nbsp &nbsp &nbsp &nbsp &nbsp &nbsp &nbsp
July 25, 2017
IT'S FRIDAY, MY FAVORITE DAY!!
I'm baaack!!
Thanks to my great webmaster - Dave was able to get my journal out last week. As he told you, I had to make a fast trip to Springfield to see how my friend, Pat was doing in ICU. She was admitted to the hospital with acute kidney failure. When I arrived (posing as her "half-sister" so I could get in to see her) she was all hooked up to IV's and wasn't fully alert. She did recognize me and was glad to see me. As it turns out, she couldn't remember how she even got into the hospital, let alone where she had been. She was traveling north in Oregon instead of south to California when she was stopped by the police - who eventually got her checked into a hospital. In between "dozes", I filled her in with what little I knew. After the hospital staff kicked me out, I turned around and headed to Salem to spend the night with the Alexander's (Jason and Ashtin anyway). Leslie and Paige were still on the East Coast checking out colleges.
I didn't want to stay long in the morning so I woke up, got dressed and tippy-toed out the door at 6:00 a.m. I tried to get gasoline for my car the night before and I tried two different stations and they didn't have any regular gas, telling me, "Maybe in the morning". So I stopped in on my way out of town and they still didn't have any regular so I ended up putting twenty bucks of Supreme so I could get home. There were so many people in the area because of the eclipse and of course they all needed fuel. I guess it caught the gas companies by surprise because they ran out. The traffic wasn't too bad that time of day and I arrived home around 8:00 and fixed breakfast for Dave and myself. And home is where I planned to stay until after the big event because of the traffic and the millions of people headed to our fair state to see that solar eclipse.
On Saturday, hoping that everyone had reached their viewing destination, we headed to Gresham and Blue Lake Park to enjoy my cousins' reunion. As we guessed, the traffic was light so we didn't have any problems. The only problem we did have was that once we reached the park, we drove around in circles until we found my cousins. It's a nice park but it wasn't very well marked - at least not so we could figure out where things were. Fortunately, they had lots of young people on scooters who were very helpful and pointed us to the right place. It was fun to see and visit with everyone, especially those that had come a long way. My cousin Marilyn and her husband Barney drove from Eureka, California and another cousin came from Cibolo, Texas (near San Antonio). Her daughter flew in from Washington, D.C., so we were from all over the place. We had a delightful potluck and more food than we could possible eat. They had planned for around 50 and about 30 came. After telling all the stories from our childhood and getting caught up on the present, we headed for home. We had a group of Cuban laborers that our contractor was using spend the weekend at our place and we wanted to get home for that. We were sorry that we couldn't stay in town as our youngest granddaughter, Jordyn was in an ice skating competition. She came in 3rd and we are so proud of her as this was her first competition. Her Mom sent us a video of her performance and we really enjoyed that but we sure wanted to be there to cheer her on. Maybe next time.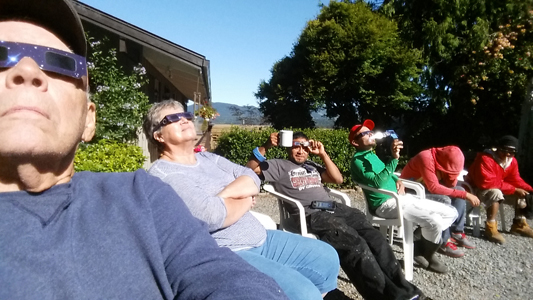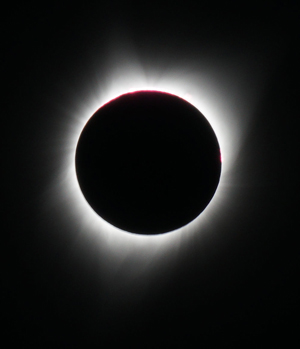 The Cubans arrived with the contractor and got busy getting some of the things on our list completed. Of course, I spent most of my time fixing food and feeding them. They were a lot of fun and very gracious for everything we did for them. They are so happy to be in the United States and with the translator app on our smart phones, we were able to carry on a conversation with them as no one knew English or very little at the least. And of course, our Spanish is just as bad. We found out that one of them had come to America on a 20-foot boat filled with 17 other Cubans. It took them 4 days at sea before landing in Puerto Rico.
Of course, they were still here for the eclipse and took in the wonder of that. We had enough protective eye wear for everyone so they didn't damage their eyes. We got out the outdoor chairs and sat out in the driveway to watch the much-anticipated event. Since our place is located just outside the band of totality, we only had a 99% eclipse here but that wasn't a problem - it still was spectacular. Our friend Ray and his wife Charleen drove south into the path of totality and he got some fantastic photos. This is just one of them.
Of course, Ray is also our contractor of choice and we have to share him with other folks. Des and Donna Kahrs use him a lot and we have been able to steal him away from them for a couple of weeks while they are gone on vacation. He is going to remodel our bathroom by putting in a new window, take out the bathtub and put in a tiled shower and redo the flooring. What started all this was we discovered a leak in or behind the bathtub and the floor has become soft in some places. Not good! So I searched the internet to get ideas and spent a lot of time at Home Depot this week looking at tile and shower doors. We finally come up with a plan that both Dave and I can live with. This is the tile and trim. It's a soft neutral color with just a trace of browns and blues in it so I can use almost any color with it. It will be a couple of weeks before we can get started as they had to special order the rest of the tile and trim. We want to have all the necessary stuff on hand before we start tearing everything apart - keeping the time we are actually without our main bathroom to a minimum.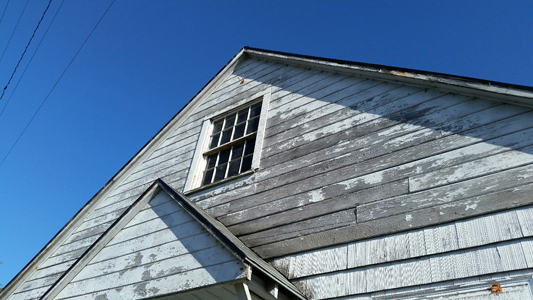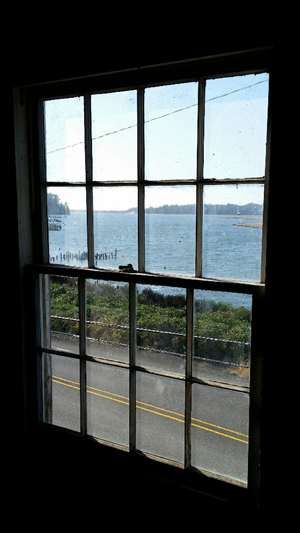 Since Ray can't get started on the bathroom for awhile, we had him doing some things down at the church. He braced the wall in the back where we will add siding and he is replacing a couple of windows that have been boarded up for a long time. He didn't want to tackle the siding that goes 25 feet in the air, so we are hoping that our other contractor Luis and his Cubans will do that.
We had to make a run into Hillsboro so Dave could get his blood drawn for his PSA as part of his cancer follow-up. He wasn't real happy with the results as the critical number is starting to inch up a bit. He has an appointment with his oncologist next week and so we will wait to see with she has to say about that rising number. While we were in Hillsboro, we met with my some of my high school classmates for lunch at Elmer's Restaurant. They get together once a month and we enjoy going whenever we can.
That's all that is happening my way and I hope you had a great week!