&nbsp &nbsp &nbsp &nbsp &nbsp &nbsp &nbsp &nbsp &nbsp &nbsp
&nbsp

&nbsp &nbsp &nbsp &nbsp &nbsp &nbsp &nbsp &nbsp &nbsp This month's calendar &nbsp &nbsp &nbsp &nbsp &nbsp &nbsp &nbsp &nbsp &nbsp &nbsp &nbsp &nbsp Archives&nbsp &nbsp &nbsp &nbsp &nbsp &nbsp &nbsp &nbsp &nbsp &nbsp &nbsp &nbsp &nbsp &nbsp Our Google Calendar&nbsp &nbsp &nbsp &nbsp &nbsp &nbsp &nbsp &nbsp &nbsp &nbsp
August 11, 2017
IT'S FRIDAY, MY FAVORITE DAY!!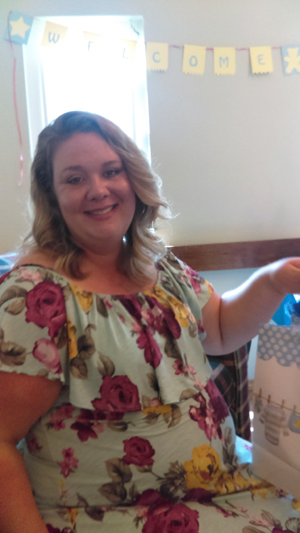 It has been a very busy week with all the comings and goings around here. Last Saturday we packed up the dog and headed into town. My nephew Brian and his wife Tonya are expecting. Dave had a party to go to for the father-to-be on Saturday night. Actually, it was billed as a "Beer Shower" for the guys, but it wound up as a poker party. Dave said he hadn't played poker in years, but he did manage to come out a couple of dollars ahead. I had a baby shower to attend on Sunday afternoon for the mother-to-be. It had been a long time since I was at a baby shower, but it was nice to be there. The baby will be a boy and will be arriving in early October. Such fun and joy awaits!
We stayed over on Saturday and Sunday because of the showers. In between those events, we were finally able to deliver the fishing boat that Dave's cousin Dennis bought last spring. It has been at our place for several years and we have been using it but he bought it on a recent trip to the coast. We had been trying to get together with him to deliver it ever since. We met him and his family while they were in Portland last weekend and dropped the boat off with them. I'm glad we could finally get together with them to complete the deal. We also stayed over Sunday night as well because on Monday morning we had to pick up Leslie and her family at the airport and reunite them with their dog. They had such a great trip on the cruise but were glad to be home and Chip was glad to see them too. After dropping them off in Salem, we headed back to the coast where the weather was thirty degrees cooler! It felt good to get into our own beds once again.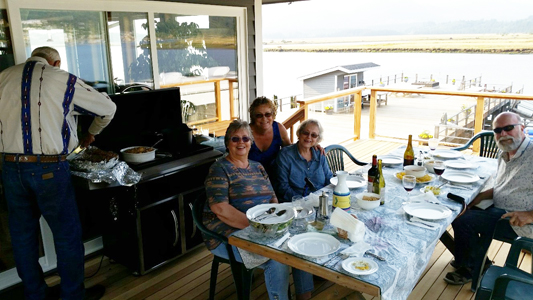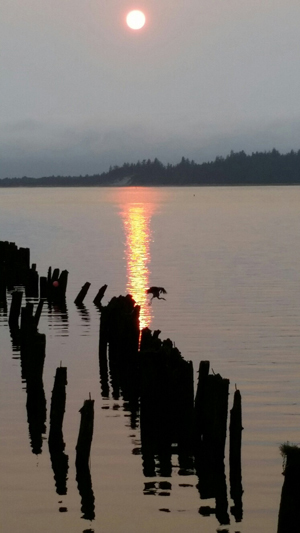 Monday night we were invited down to Kahrs' for a picnic on their new patio. They had new decking and glass put in between the railings. It is really beautiful. After dinner of ribs, we all wandered down on the dock for dessert and a bonfire. Ray and Charlene were there too so it was nice to see everyone. It has been so smoky out from all the forest fires but we got a great picture of the sunset from their wharf. Dave managed to catch a Great Blue Heron just as he took off from a piling.
I can smile again! I got my new crowns on my teeth on Wednesday. They look great and I feel so much better about my teeth. I had gone in a week earlier to get temporaries and stopped by the dental lab to have the color match with my regular teeth. On Wednesday when I returned to get the new crowns, there was about a millimeter gap between the two front teeth and the dentist wasn't very happy about that. So he called the dental lab and had a rush order to repair them. An hour later I walked out of the dentist's office with perfect teeth once more.
My childhood friend, Patsy came up from California to visit with me this week. We are having a class reunion on Saturday - this one will celebrate everyone's 75th birthday. Patsy didn't graduate with our high school class - she transferred to another school. Still, she knows a lot of them from grade and middle school so I'm sure she'll fit right in on Saturday. She and I have been talking non-stop since she got here and I am sure we will have lots of stories to tell.
We also went to the Tillamook County Fair this week - not so much to see the animals, but to see the exhibits. We had had a guy from the electric company come by to do an energy audit on our house to assess it for better heat efficiency. He recommended an auxiliary heat pump and said that we could see a couple of dealers at the county fair. So off we went. We came home with the literature and a couple of appointments to see how that will work for us. After the fair, we stopped at our favorite Chinese place for dinner.
The fishermen are in full swing out in front of our place catching salmon in the bay and Dave has been getting his boat ready for launching. Hopefully soon. I would love to be eating a freshly caught salmon right now!
I hope you are not suffering too much from this hot weather. I know that while I was in town it was really uncomfortable and couldn't wait to get back to our much cooler coast weather.