&nbsp &nbsp &nbsp &nbsp &nbsp &nbsp &nbsp &nbsp &nbsp &nbsp
&nbsp

&nbsp &nbsp &nbsp &nbsp &nbsp &nbsp &nbsp &nbsp &nbsp This month's calendar &nbsp &nbsp &nbsp &nbsp &nbsp &nbsp &nbsp &nbsp &nbsp &nbsp &nbsp &nbsp Archives&nbsp &nbsp &nbsp &nbsp &nbsp &nbsp &nbsp &nbsp &nbsp &nbsp &nbsp &nbsp &nbsp &nbsp Our Google Calendar&nbsp &nbsp &nbsp &nbsp &nbsp &nbsp &nbsp &nbsp &nbsp &nbsp
August 4, 2017
IT'S FRIDAY, MY FAVORITE DAY!!
Whew, has it been hot or what? We had to make a couple of trips into the valley this week. I had a dentist appointment to get my tooth fixed and Dave had a VA appointment for his hearing aids. The first trip we made was on Wednesday and we managed to get my dental appointment taken care of and we ran a couple of other errands too. Chip was with us because he can't be left at home alone. After we took care of everything we went in there for, we turned around and headed home. It was about 1:00 p.m. and it was already beginning to get hot and the traffic heading to the coast was gridlocked. It looked like five-o'clock traffic in the city! This was only Wednesday and it looked like everyone was getting out of town to escape the heat. I sent Dave over to Manzanita for "take-out" after we got home and it took him nearly an hour to make the round trip. He said there wasn't a parking place within blocks of the restaurant.
On Thursday, it was another trip to town. This time we decided to leave the dog at City Hall with our City Manager and the city's office manager . They both love dogs and have been begging for a chance to hang around with him since they first met him. We really didn't want to burden them, but two trips to Hillsboro and driving Highway 53 was way too much to ask of Chip. So he stayed here at our "dog-friendly" City Hall and helped the Geoff and Lori run the town. The traffic on Thursday wasn't as bad as the day before but - if anything - it was even hotter. We read the temperature gauge in the car when we left the VA office and it was at 106! I am glad we didn't take Chip with us.
It did get hot down at the coast too - a lot more than we're used to. On Wednesday, according to the readout on our weather station, it was nearly100 degrees in Wheeler but it cooled down to 75 degrees on Thursday. I'll take that any day. I dug out the electric fan to keep cool and I have been watering my plants to make sure that they don't faint in this heat too.
Chip is adjusting well to us. He likes to be right with us all the time and we have managed to keep him off our bed at night. The first night we let him sleep with us, but found out that the bed just isn't big enough for three of us, especially Chip who takes his half out of the middle. Have you ever tried to move an 85 pound dog? He tried to jump up on the bed the next night but we immediately stopped that. Now he sleeps on the sheep skin rug on the floor beside me. We also have learned to keep the food up out of reach as he is quick to help himself. The other morning I had my plate of breakfast on the table and I turned my back and he ate my muffin! What's funny is that when he is in trouble, he won't look us in the eye. He tries to look innocent, but fails miserably with that "eye-contact" thing. The cat, Jerry and Chip have had their run in. Chip saw Jerry waiting outside the window to get fed and Chip barked and lunged at him. We didn't see Jerry for a couple of days after that episode. Now when we see him, we try to close Chip up in the bedroom until Jerry has had his dinner.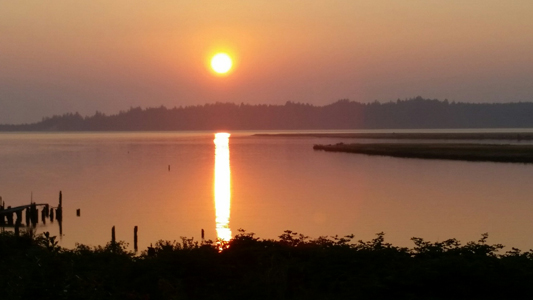 We have had really smoky, hazy skies caused by forest fires in British Columbia. They make for beautiful sunsets but warnings have been issued about the quality of air. I know it has affected both of us with runny noses and watery eyes. I guess - in some ways - the weather can be just as bad in the summer as in the winter.
We have to make one more trip to town over the weekend. My nephew's wife, Tonya is having a baby shower. The deal is, there will be a beer party for the guys (they have to bring some diapers to get in the door) and a baby shower for the girls. The only problem is the beer shower is Saturday night and the baby shower is on Sunday. We also are bringing in the boat that Dave's cousin bought several months ago. Since Dennis is going to be in Portland, we are meeting up with him on Sunday morning after church to finally deliver his boat. Then we're going to hang around town because we will be picking up Leslie and family at the airport on Monday and taking them back home and giving them back their dog. They have been on a cruise all week. So needless to say, we will be gone all weekend but we will get a chance to spend some time with Lara and her family, since that's who we will be staying with. I sure hope the weather cools down a bit.