&nbsp &nbsp &nbsp &nbsp &nbsp &nbsp &nbsp &nbsp &nbsp &nbsp
&nbsp

&nbsp &nbsp &nbsp &nbsp &nbsp &nbsp &nbsp &nbsp &nbsp This month's calendar &nbsp &nbsp &nbsp &nbsp &nbsp &nbsp &nbsp &nbsp &nbsp &nbsp &nbsp &nbsp Archives&nbsp &nbsp &nbsp &nbsp &nbsp &nbsp &nbsp &nbsp &nbsp &nbsp &nbsp &nbsp &nbsp &nbsp Our Google Calendar&nbsp &nbsp &nbsp &nbsp &nbsp &nbsp &nbsp &nbsp &nbsp &nbsp
April 27, 2018
IT'S FRIDAY, MY FAVORITE DAY!!
I am still plugging along with my wheelchair and boot. I go to the doctor next Tuesday and he will probably put me into a walking boot. No more wheelchair anyway. At least, that's the plan. We'll see.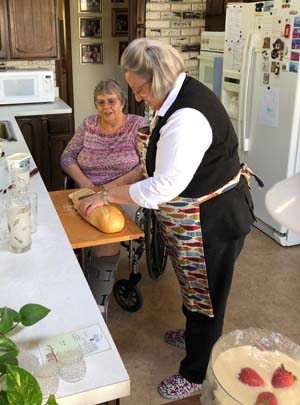 We had our Sunday soup gang over last Sunday. We have this bunch (six of us) that get together every other month and it was my turn to host the event. Everyone was feeling sorry for me and offered to have the function at their house, but they all have stairs and it was easier for me to do it here. Fortunately, my friend Patricia came early and helped me set up. I made turkey noodle soup and Patricia brought a delicious strawberry trifle and Linda came with a salad and it was great. The host and hostess get to invite another couple so we invited our friends, Ray and Charleen. It's always fun to get together with this group and two hours went by before I knew it.
On Monday, my nephew's wife with her baby son, Ben and Tonya's sister-in-law, came by for lunch and a visit. Ben is now seven months old and I hadn't seen him since Christmas. He sure is growing and so cute. He is big for his age, 18 lbs and is in toddler clothes. 18-month toddler clothes! It was a nice visit and we enjoyed seeing them. After they left our place they were headed south to introduce Ben to the Tillamook Cheese factory and ice cream!
We had some really nice days the first of the week but because it was so hot in the valley we were shrouded in fog most the day on Wednesday and then the clouds rolled back in. I took advantage of the nice weather though and had a friend come over and help me shape up the geraniums that I had wintered over in my greenhouse. Some of them were starting to bloom and many buds were present. I had bought some extra geraniums to "fill-in" where the pots were bare. So in a couple of weeks, we will transfer them to the Post Office planters for the summer. That was a big help and I really appreciated Becky taking the time to help me.
Although I haven't been able to get out in the greenhouse and in to the garden (which is killing me!). I did wheel myself out to the planters on the front deck to give them a little love and care. Those are the ones I can see all the time and they really needed some pruning and just general refreshing. If there's dirt, I'll find it!!
Dave and I drove into Hillsboro on Thursday to attend my class reunion luncheon which meets every month. It was great to see everyone, although it was a smaller crowd than usual. After lunch, Dave and I drove over to see his sister, Leanna and her new place. Well actually, it is in the same retirement home but over in another wing. I had made her a name plaque for her door and it was suppose to be a Christmas gift but I got it to her a little late. She seems to be doing fine and likes her new room. After we left her place we headed back to Tillamook as I had ordered some groceries online from Freddies and needed to pick them up by 3:00 p.m. We made it there with five minutes to spare! While we were there, I checked out their nursery and came home with lots of plants. Now I can at least get some flowers planted on the deck and as soon as I am able I will finish the job in the yard.
Well, that's about all that is happening my way this week. Being confined to this wheelchair doesn't give me much to talk about. Oh, one thing...we are now officially under a month 'til we leave on our train trip. Once I get the doctor's okay, I'm really going to have to make up for lost time to get my ankle in shape for this vacation. We will see how well I can walk and how much walking I can do. I'll have a better idea of all that next week and will let you know then.