&nbsp &nbsp &nbsp &nbsp &nbsp &nbsp &nbsp &nbsp &nbsp &nbsp
&nbsp

&nbsp &nbsp &nbsp &nbsp &nbsp &nbsp &nbsp &nbsp &nbsp This month's calendar &nbsp &nbsp &nbsp &nbsp &nbsp &nbsp &nbsp &nbsp &nbsp &nbsp &nbsp &nbsp Archives&nbsp &nbsp &nbsp &nbsp &nbsp &nbsp &nbsp &nbsp &nbsp &nbsp &nbsp &nbsp &nbsp &nbsp Our Google Calendar&nbsp &nbsp &nbsp &nbsp &nbsp &nbsp &nbsp &nbsp &nbsp &nbsp
January 19, 2018
IT'S FRIDAY, MY FAVORITE DAY!!
We left Friday night to spend the night in Salem as our granddaughter; Jaysa was traveling there to perform at a gymnastics meet Saturday morning. She was fun to watch and was happy to see us there to root her on. She placed third in her performance on the mat. After leaving the meet, we headed home as Luis had texted us to say that he was coming to the coast and wanted to do some projects for us. However, he didn't show up (which is typical for him) and we raced home for nothing. I don't know why we put up with that, except that we like the guy and when he and his Cubans do show up, they do a nice job for us. That - and it's almost impossible to get anyone else to even pretend they're going to show up!
I did manage to get my much-neglected green house cleaned up. At least I can move around in there! Some of the plants that I have been storing in there didn't make it (lack of watering) so I threw them in the yard debris pile, pruned back some geraniums and herbs and gave them a good watering with fertilizer. I will see what happens. I also decided to rake up the remaining leaves in the yard and something in the air got my allergies going. I came down with a cough, watery eyes and a running nose. I have been down with a cold all week so have been lying low.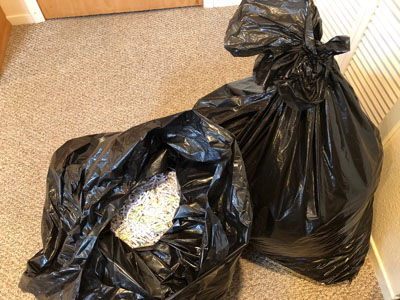 Since I haven't felt like going anywhere, I didn't go to my aerobics classes on Wednesday and Thursday (Dave did) and I missed a Parks and Recreation meeting on Thursday. I did manage to crawl out of my sick bed and purge the files in the office and get everything ready for the taxes. I spent some time shredding all the papers I had purged. The shredder complained a bit and shut itself down when it got too hot, but so far I haven't burned it up and we have two garbage bags full of shredding debris.
Go Ducks! One good thing happened this week! Our granddaughter, Paige has verbally committed to play soccer at the University of Oregon after she graduates from high school! This is a photo of the announcement from the school on Twitter earlier this week. She's not identified because she's only a sophomore and they can't officially "sign" her for another year or so. But anyone who knows women's soccer knows that a commitment from a player in Salem to begin playing in 2020 could only be our Paige! This is the final step in what has been a very involved process. Not only have schools from all over the country been scouting her and gauging her interest in coming to play for them, but she and her parents have traveled all over the country visiting potential schools. At first, she wanted to go to school in the East so she could "be independent". After seeing some other parts of the country, she decided she could be "independent" a little close to home. We're happy with her selection because we think the school will be a good fit for her and besides - G-Ma and G-Dad will be able to go watch her play in Eugene!
Sorry this is short this week, I am just not up to speed, but I am getting better. I don't have colds very often, but when I do, I really take a hit.