&nbsp &nbsp &nbsp &nbsp &nbsp &nbsp &nbsp &nbsp &nbsp &nbsp
&nbsp

&nbsp &nbsp &nbsp &nbsp &nbsp &nbsp &nbsp &nbsp &nbsp This month's calendar &nbsp &nbsp &nbsp &nbsp &nbsp &nbsp &nbsp &nbsp &nbsp &nbsp &nbsp &nbsp Archives&nbsp &nbsp &nbsp &nbsp &nbsp &nbsp &nbsp &nbsp &nbsp &nbsp &nbsp &nbsp &nbsp &nbsp Our Google Calendar&nbsp &nbsp &nbsp &nbsp &nbsp &nbsp &nbsp &nbsp &nbsp &nbsp
December 8, 2017
IT'S FRIDAY, MY FAVORITE DAY!!
It's been a horrible week. On Sunday, we got one of those dreaded phone calls from our daughter, Leslie informing us that her brother-in-law, Shad had been killed in a car accident. We were numb and so saddened. He was a passenger in a car that went over an embankment and hit a tree. Shad was killed instantly and the driver was unharmed. He was only 44 and had so much to live for. I spent most of the week thinking of his family and all those friends that were touched by Shad in his lifetime. He was a very special person and was that guy who would do anything for you. Because he was Jason's brother, we got to know him very well. He and his wife Anna were here in September. They used our boat go crabbing. The funeral was in Hillsboro on Thursday and I believe there were at least 500 people there, maybe more. Dave was asked by the family to deliver the Eulogy and he did a very good job. He called it a labor of love because Shad was such a special friend. He will be missed.
While trying to maintain my sanity, I did manage to get my Christmas cards mailed and the decorations and lights are up. My heart wasn't in it but life must go on as they say. I am hosting the Park and Rec. Committee Christmas party on Sunday afternoon and I needed the place to look festive.
We had a couple of visitors this week too. Two of the Cubans dropped by to visit. It was fun to see them again. They have been working down in Houston after the hurricane damage there. They didn't like Houston very much, because it was too hot. Go figure, they are from Cuba! Now they are off to Kansas City for work and they will experience a lot colder weather. I was hoping that they would stay around this area (they love Oregon) as there are a couple of jobs down here that need doing. They did say they would be back this spring.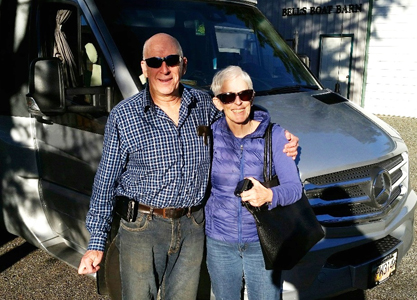 Also, we had visitors from Canada. Some Canadian steamboaters dropped by with their motorhome. Tom and Alison were headed down south for a month of sunshine. We hadn't seen them for a while since we haven't been going to any of the steam meets. I believe the last time we saw them was when they took our boat in tow after we suffered a breakdown in Astoria before Dave's cancer several years ago. We took them out to lunch here in Wheeler before they headed south.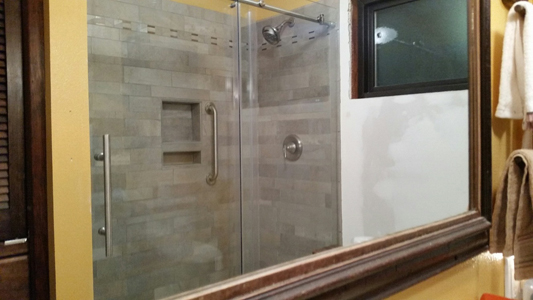 The bathroom is about done. The tile installation was very detailed and took a couple of weeks to complete, but we love the way it turned out. The only things left to do are to texture the wall and repaint it. The window frame needs to be put in and also the towel rack. We will have the new flooring put in after the holidays. I'm hoping that things are at the point where I can actually use the shower by this weekend!
I have been suffering from Plantar Fasciitis in my foot and it has been so painful that it hurts to walk. I have support in my shoes but that hasn't been much help. I have made a doctor's appointment but I can't get in until the 12th of December. I sure hope there is something the doctor can do about it.
Well, that's my life in a nutshell this week. Not too cheery for the holiday and I hope things do get better as I am sure that they can't get any worse.